Skip Navigation
Website Accessibility
REPAIRS & TUNE-UPS

For the most accurate quote, bring your instrument in!

If you're looking for a repair shop that does excellent work, will tell you the truth and charge a fair rate, bring your instrument to The Strum Shop. Our techs have extensive experience with guitars, basses, banjos, mandolins, ukuleles, violins, violas and cellos, and even some of the more unusual instruments such as autoharps, lutes and ouds. Whatever you bring in, you can be confident we will treat it as if it was our own.

Most setups and minor repairs are handled in-house. Many major repairs on stringed instruments and all woodwind and brass instruments are handled by one of the excellent outside vendors with which we have partnered.

For the most accurate quotes on repairs, please bring your instrument(s) into the shop.

Hours & Location >>



Carl Chalmers
Luthier
Carl is our electric guitar specialist. He has been repairing and modifying guitars for the last 25 years and building custom guitars for the last 15 years. Some of his custom built guitars have been played in professional recording studios (Fat Cat Recording) and on stages in front of thousands of fans (Shoreline Amphitheater). Carl is mostly self taught when it comes to building and repairing electric guitars but he has also taken acoustic guitar building classes with Al Caldrone of ARC guitars and also a guitar neck building course with Perry Vasquez of Santa Cruz and UNGA guitars. Carl has also completed online building and repair courses from Robert O'Brien, Kent Everett and Micheal Bashkin to name just a few.

Dave 'Santa' Cavanagh
Luthier
Dave is our vintage acoustic instrument expert. He has been repairing guitars, banjos, mandolins, violins, ukuleles and many other various stringed instruments since 1969. He also owned a music store (Cole Music Co. in Sonora CA) from 1980 until he retired in 1990. Dave is honest to a fault and extremely well versed in all forms of stringed instrument repair. He still performs regularly on 5 string banjo, mandolin, fiddle, and guitar. Plays well with others, but has been known to run with scissors.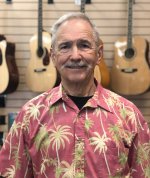 Dr Dan Elliott Sr
Setup Technician
Dr. Dan retired from his position as professor of education at Azusa Pacific University in 2010 and moved to Foresthill, CA with his wife, Betty. In his retirement, he serves as pastor of senior adult ministries at Parkside Church of the Nazarene and teacher ministry courses for the Sacramento District Church of the Nazarene. In his spare time, he provides guitar setup & restring services at The Strum Shop, offers encouraging words to those seeking to learn how to play a musical instrument and sometimes helps to lead some of the acoustic jams and clubs.