Preowned Digigram ES8OUT Ethersound Audio Bridge

The Digigram EtherSound ES8out Ethernet audio bridge


Preowned - Digitech Vocalist VR

Preowned - Digitech Vocalist VR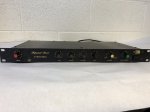 Preowned Biamp MR/140 Spring Reverb

Preowned Biamp Reverb MR/140


Preowned Peavey PVXp12 DCP Powered Speaker Two-Way

Peavey PVXp 12 Powered Speakers 12 DSP Two-Way Floor Model - They were used in the store.There are scuffs on the exterior. They both still work like they're new.


Price

$ 240.00

Quantity:

This item is not available for purchase online. Please call (916) 787-8786 to order.